Cloudswift Copper | Frost
210 $
Light and swift with impact protection. Features Helion™ superfoam so running on hard surfaces never felt easier.
Free all GCC shipping on all orders over $1000
Free Saudi Arabia shipping on all orders over $250
On Running Size Guide
On Running shoe size guide
This On Running Size Charts page will help you out in finding your On Running Shoe Size in centimeters. Easy to use size charts between On Running US sizes, On Running European sizes, or On Running UK sizes.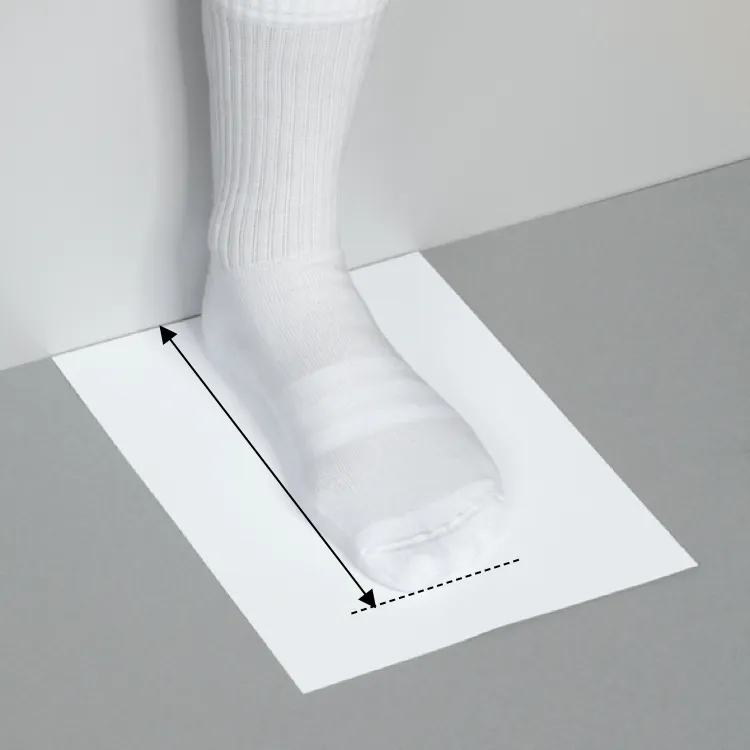 How to measure
Step on а piece of paper with your heel slightly touching a wall behind.
Мark the end of your longest toe on the paper (you might need a friend to help you) and measure from the wall to the marking.
Do the same for the other foot and compare measurements with our size chart to get the right size.
In between sizes
In general, Running shoe size is typically a half size larger than your typical shoe size. You always start by measuring the length and width and your true shoe size and take it from there. Most of the time, you will end up with a running shoe that's about a half size bigger than your regular shoe size.
On Running size charts and fitting (For women)
| Foot Length (Women) | ON EU Size | ON US Size | ON UK Size |
| --- | --- | --- | --- |
| 22.0 cm | 36 | 5 | 3 |
| 22.5 cm | 36.5 | 5.5 | 3.5 |
| 23.0 cm | 37 | 6 | 4 |
| 23.5 cm | 37.5 | 6.5 | 4.5 |
| 24.0 cm | 38 | 7 | 5 |
| 24.5 cm | 38.5 | 7.5 | 5.5 |
| 25.0 cm | 39 | 8 | 6 |
| 25.5 cm | 40 | 8.5 | 6.5 |
| 26.0 cm | 40.5 | 9 | 7 |
| 26.5 cm | 41 | 9.5 | 7.5 |
| 27.0 cm | 42 | 10 | 8 |
| 27.5 cm | 42.5 | 10.5 | 8.5 |
| 28.0 cm | 43 | 11 | 9 |
On Running size charts and fitting (For women)
On Running size charts and fitting (For Men)
| Foot Length (Men) | ON EU Size | ON US Size | ON UK Size |
| --- | --- | --- | --- |
| 25.0 cm | 40 | 7 | 6.5 |
| 25.5 cm | 40.5 | 7.5 | 7 |
| 26.0 cm | 41 | 8 | 7.5 |
| 26.5 cm | 42 | 8.5 | 8 |
| 27.0 cm | 42.5 | 9 | 8.5 |
| 27.5 cm | 43 | 9.5 | 9 |
| 28.0 cm | 44 | 10 | 9.5 |
| 28.5 cm | 44.5 | 10.5 | 10 |
| 29.0 cm | 45 | 11 | 10.5 |
| 29.5 cm | 46 | 11.5 | 11 |
| 30.0 cm | 47 | 12 | 11.5 |
| 30.5 cm | 47.5 | 12.5 | 12 |
| 31.0 cm | 48 | 13 | 12.5 |
On Running size charts and fitting (For Men)